Sparky & Spots
Sparky & Spots is a fictitious pet boutique located in Coronado, California. It is the ultimate destination for pets and pet lovers alike to find high quality, exciting, and on-trend toys, clothes, and accessories.
UX/UI Design & Branding
View Prototype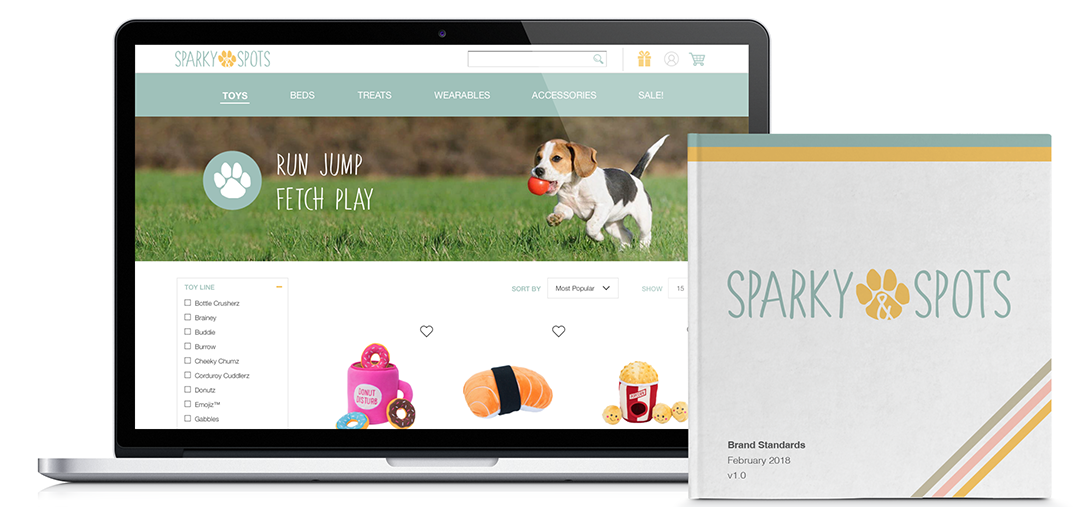 Shopping page and brand book
Design Goals
A successful experience had two main goals, which were divide by the design requests. First, for the website experience, users should be able to successfully navigate from the home page to the product of their choice, and then complete an online transaction. Second, for the web site, logo, and style guide, users should associate the brand Sparky & Spots with high-end, quality pet accessories and feel that this is their neighborhood pet store in Coronado. The company's love for animals needs to be conveyed through the branding, logo, and lifestyle imagery on the site. The brand should also communicate the upscale nature of the boutique, and integrate well into the rich history of its location (Coronado, CA).

The goal of the design of Sparky & Spots is to facilitate user's ability to easily and quickly find a product and complete a purchase of a dog-related item while instilling the user with a sense of trust in the company.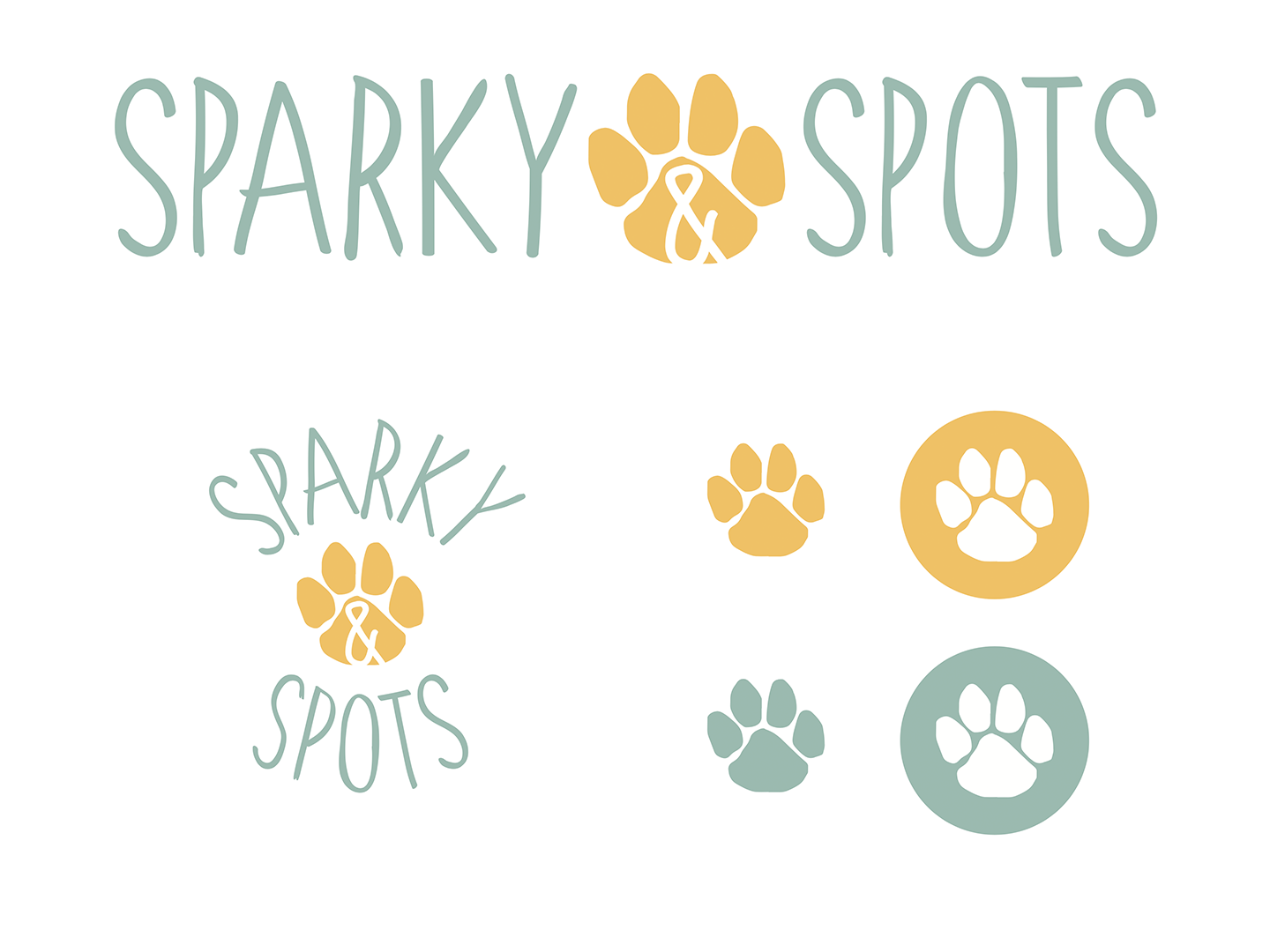 Logo and variations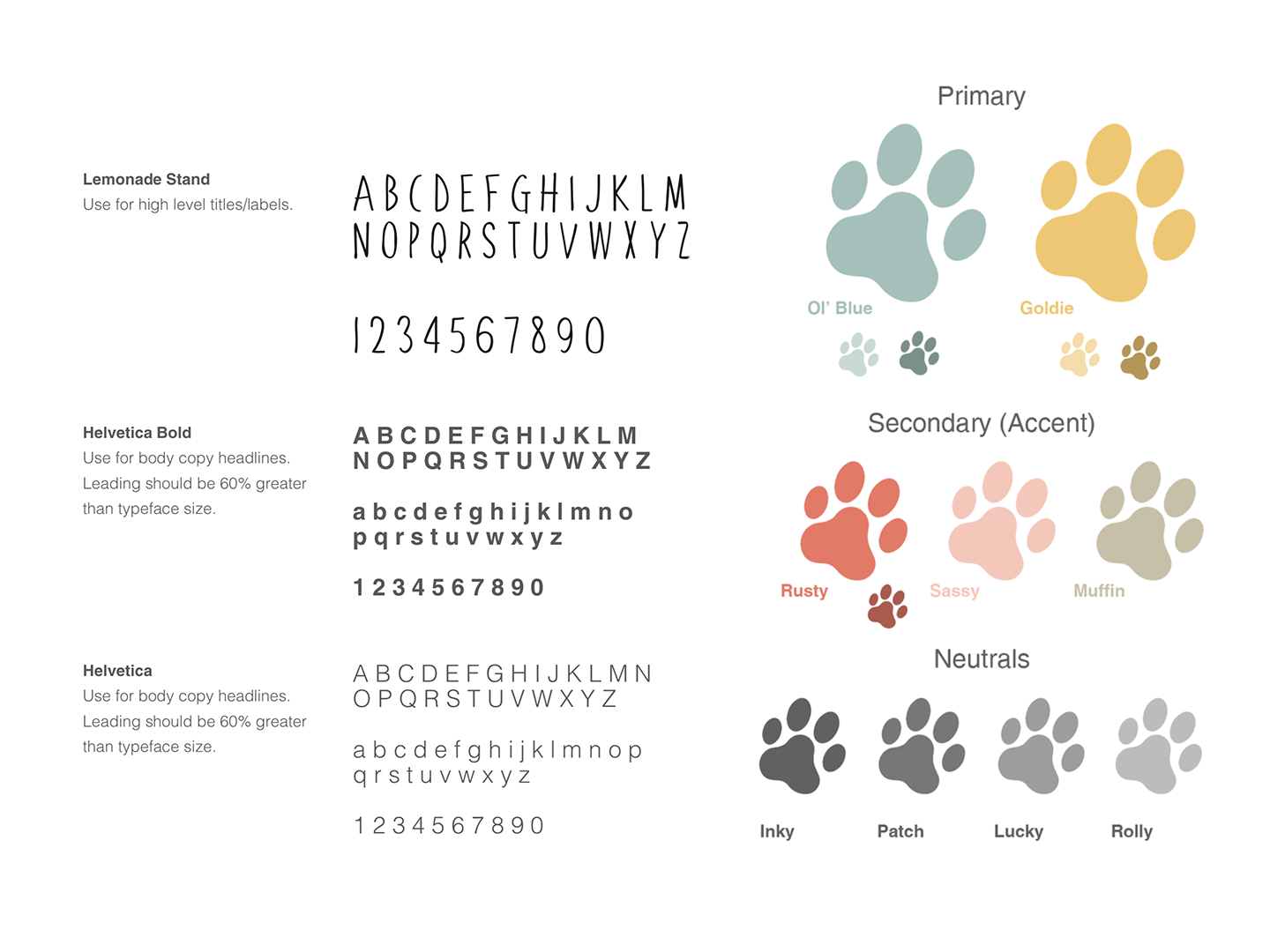 Typography and color
Process
This project began with ideating on and executing a logo, and brand book. After a review of similar sites, I conducted user research was conducted to understand user behaviors. Using this collected information, I then iteratively created wireframes, visual design, and prototypes of the site design that was tested with users.

View style guide
View usability report
Design Brief

Created a reference documented outlining goals, target audience, expected process timeline, and expected budget.

Competitive Analysis

Reviewed various similar e-commerce sites, both national and locally based, to understand customer expectations of experiences and create benchmarks.

Brand Creation

Logo design, palette choices, and creation of brand guidelines document outlining and explaining fonts, logo usage, photography usage, and color specifications.
View style guide

User Research

Ran a survey with ten users through SurveyMonkey to gather information about information hierarchy and user behaviors with the goal to learn about user's behaviors regarding pet purchases and understand what information users use to make a purchase decision.

Wireframes

Created greyscale wireframes in Axure to lay out information and organize information architecture based on data from user research.

Visual Design

Added visuals to Axure wireframes based on brand guidelines.

Prototyping

Added interactions to Axure designs to create interactive prototype that can be user tested.
View Prototype

User Feedback

Conducted three user feedback sessions with task analysis on prototype. Based on this feedback, created recommendations for design improvements.
View usability report

Iteration

Iterated on all pages of the redesign in terms of visuals, experience, and interactions based on user feedback to create final design.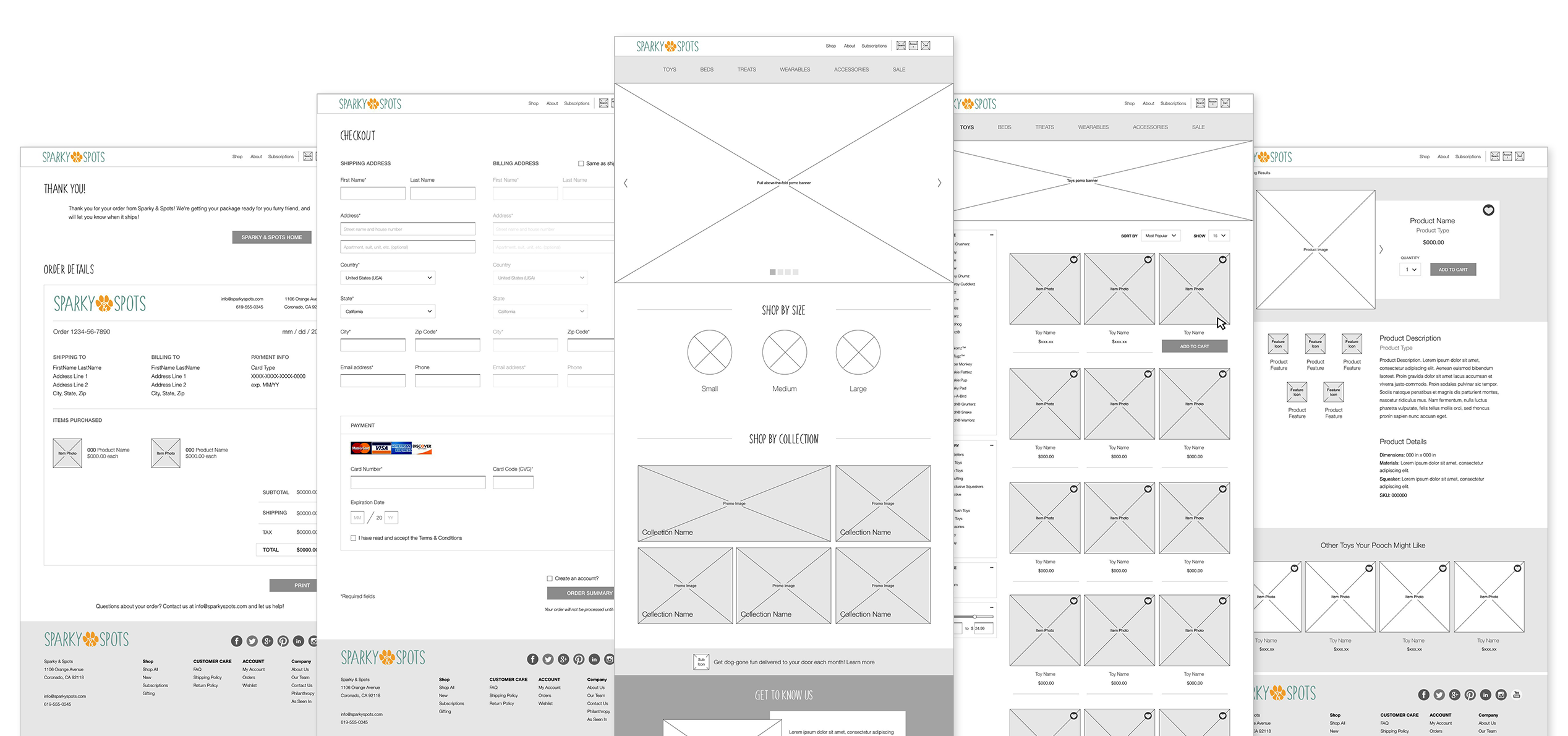 Wireframes, first pass
Solution
User testing revealed several key findings to improve the user experience of purchasing a product. The "Add to Cart" functionality was given more visual prominence on the page in order to pass the "Squint Test". The ability to remove items from the cart was redesigned after users took too long to find it. Within the checkout experience, the payment information area was visually and textually reinforced to ensure users of the security of their data. Finally, a modal cart was added to the experience with interactive elements so users could quickly view their cart and make changes in-context of any page. The changes implemented from user feedback led to a stronger, more coherent user experience that accomplished the original goal of allowing a user to quickly and easily go through a purchase flow with a sense of trust and confidence.

View Prototype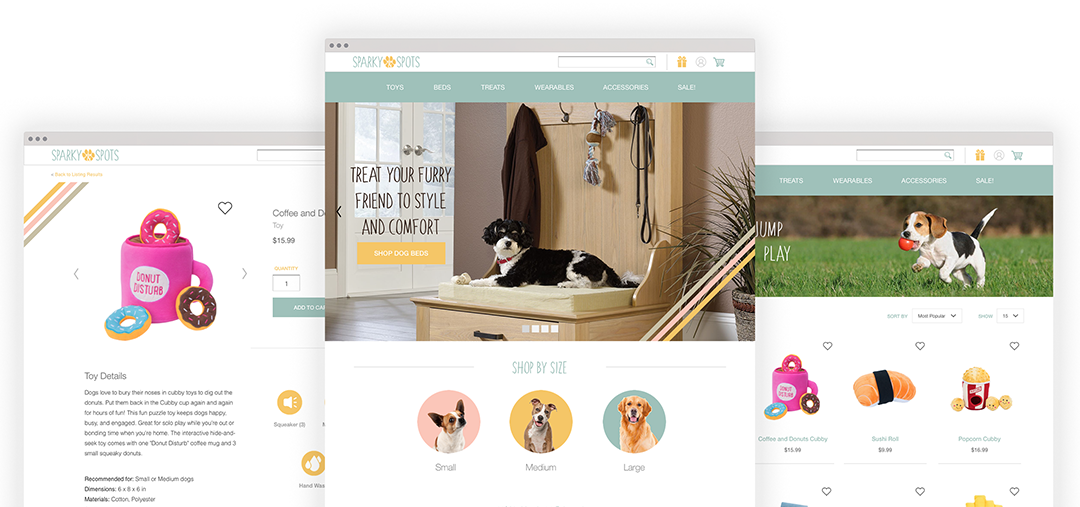 Landing page (left), search results page (center), tools page (right)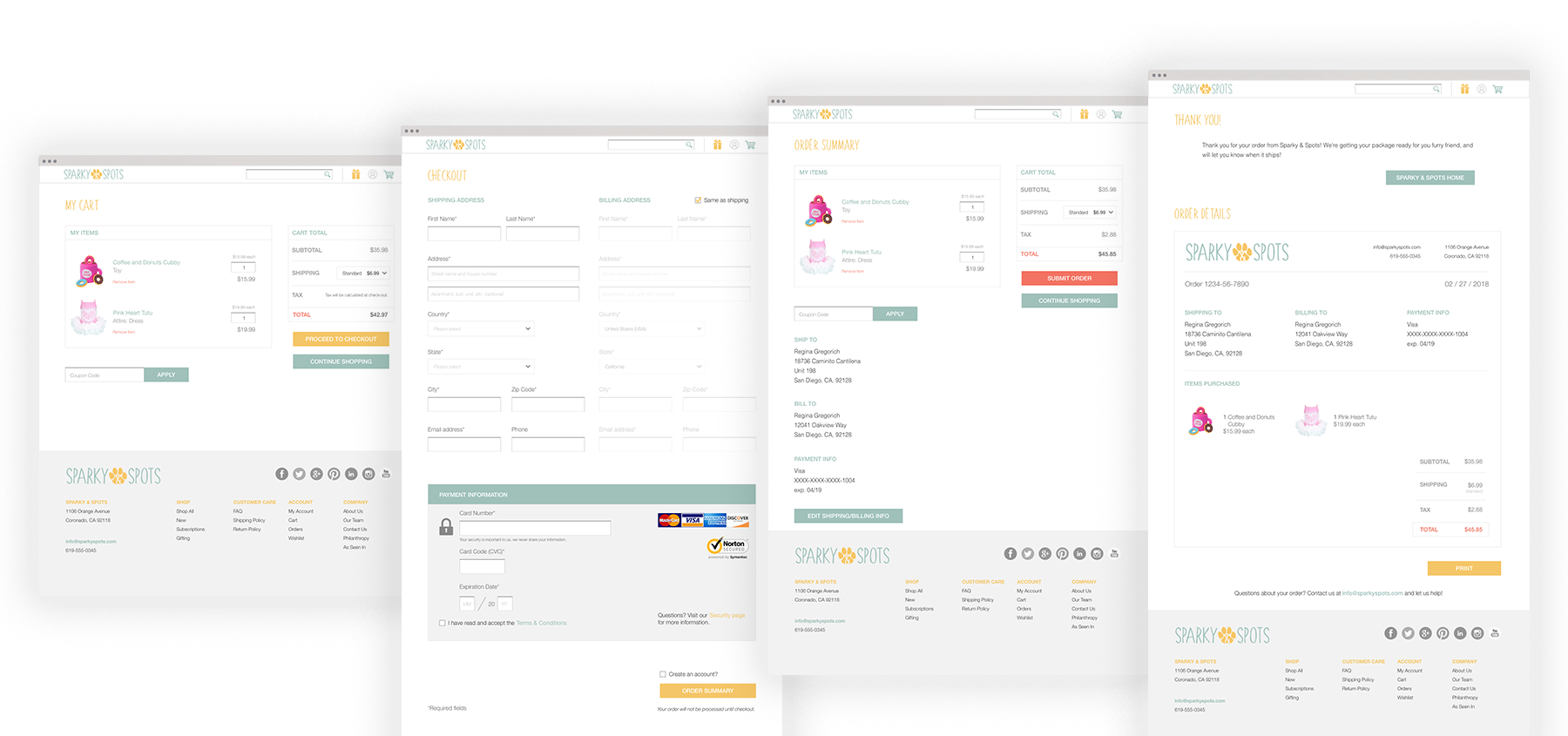 Purchase flow